Rovies

The village is built in an olive grove between two mountains, Telethrion and Kavalari. It has a great beach due to its clear waters and the access from the major urban centers which is easy, while it is situated on the road Limni -Edipsos. In the center of the village, a tower stands up, which belongs to Benaki family and graces the village for hundreds of years. Along the beach, there are natural bays where someone could swim and enjoy the magnificent sunset.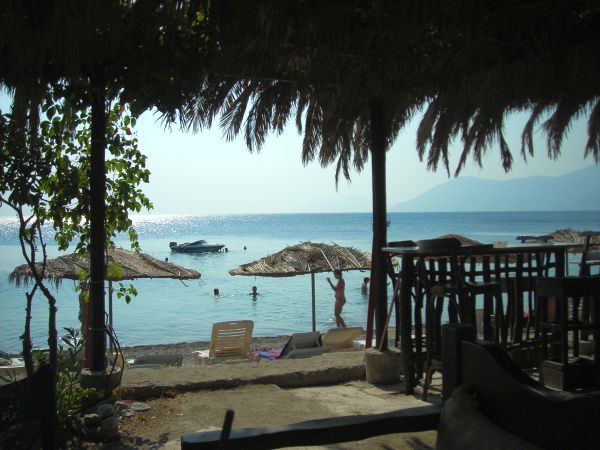 Hotels
There are 11 hotels in this location.
Page 1 of 3

4143
Hits • Address: Ροβιές Έυβοια - 34005, Rovies
(Area map)
Set amidst a lush garden with palm trees, Hotel Yades is 800 metres from the nearest beach in Rovies of Evia. It features an outdoor swimming pool, a bar-restaurant and a playground. Free Wi-Fi is provided throughout.
Fitted with dark wood furnishings, all air-conditioned rooms are spacious and open to a balcony overlooking the Evoikos Gulf. The private bathroom is stocked with ...

4344
Hits • Address: Ροβιές Έυβοια - 34005, Rovies
(Area map)

Hostels
Ideally located just a few meters from the beach, these modern bungalows are an ideal place to enjoy a holiday filled with total relaxation.
Spacious and clean though modestly furnished, the rooms and suites cover a range of tastes. The bungalows are fully equipped and 24-hour service is available to ensure your wishes are taken care of.
With the sun shining and the birds chirping,...
4195
Hits • Address: Ροβιές Έυβοια - 34005, Rovies
(Area map)
Just 10 metres from the beach of Rovies in Evia, Lappas Rooms offers air-conditioned studios with a furnished balcony overlooking the garden, the mountains or the Euboean Gulf. Restaurants and shops are within a 4-minute walk.
A kitchenette with cooking facilities and fridge is included in all studios at the Lappas. Each has a TV and a private bathroom with shower.
Free Wi-Fi access...
3534
Hits • Address: Ροβιές Έυβοια - 34005, Rovies
(Area map)
Hotels
Souris Hotel is surrounded by beautiful palm-tree gardens and green hills, just 40 metres from the beach in Rovies. It offers an all-day restaurant and spacious rooms with panoramic views.
The spacious Souris rooms offer large terraces with breathtaking view to the sea and the surrounding hills. Each is fitted with anatomic mattresses and painted in soft colours.
A hearty, buffet...

5353
Hits • Address: Ροβιές Έυβοια - 34005, Rovies
(Area map)
Covering a lush 3,200-m² area, Sungate Beach complex is located just a few metres from Rovies Beach in Euboea. It offers self-catering units with free Wi-Fi and views over the Euboean Gulf and the blossomed garden.
Opening to a furnished balcony, all apartments of Sungate have a seating area and a well-equipped kitchen or kitchenette with dining area. Each air-conditioned unit ...